Hisa Village

所在地:沖縄
延床面積:62.64㎡
住宅
2015年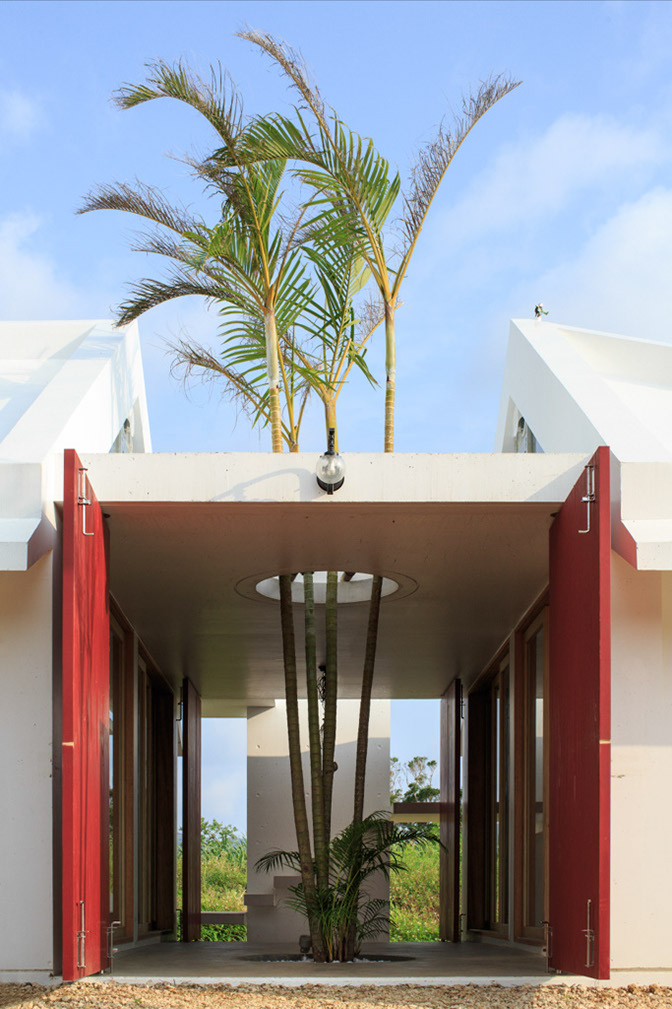 離島で自然と共に過ごす終の棲家

気候温暖な石垣島で熱帯果樹を育てながら余生を送りたいというお年寄りの終の棲家である。熱帯地方特有の高温多湿な気候と本土では想像もできないほど強烈な台風にどのように対処するかが設計する上での重要なテーマとなった。
高温多湿な環境に対しては、寄せ棟で構成される沖縄伝統の建物形式を中央で割り、引き離し半屋外の中庭空間をつくりその風通しの良い空間を建物の中心に据えた。この土間空間はリビング的な役割を担い、また母屋と離れの客間とのエントランスホールの役目も果たしている。屋根は全て外壁同色の遮熱塗料が塗られており夏の強い日差しと塩害から建物を保護している。
台風に関しては、当初から建物を最大限小さく、また低く作ることを心がけた。風圧に関しては極力抵抗を受けない形態とすることが良いのではないかと思っていたからである。飛行機や自動車のフォルムと同じ考え方である。また、先ほどの中庭や全ての窓には防風戸、蔀戸等を設けて木製サッシの破損を防ぐよう計画した。
東京から移住した施主を訪ねる方のために小さいながらも中庭を挟んで離れを設けた。また、中庭の上のルーフバルコニーはスラブからヤシの木が突きぬけ、屋根越しに海が望めるよう計画した。
この建物が竣工し2度ほど大きな台風を経験したが何も被害無く無事であった。これからも長きにわたって家主を守りそしてやさしく寄り添ってもらいたいと思っている。

The last house to spend with nature on a remote island

It is a plan for an elderly client, migrated from Tokyo, who wants to spend the rest of his life while growing tropical fruit trees on Ishigaki Island, where the climate is warm. It became an important theme in designing how to deal with the hot and humid climate peculiar to the tropics and the typhoon that was unimaginable on the mainland.
For the hot and humid environment, the traditional Okinawan building structure consisting of a hipped roof was divided at the center and separated to create a semi-outdoor courtyard space. The airy courtyard was placed in the center of the building. This semi-outdoor space serves as a living room and serves as both an entrance hall between the living space and separate guest room. All the roofs are coated with a thermal barrier paint of the same color as the outer wall to protect the building from the strong sunlight in summer and salt damage.
As a countermeasure against typhoons, I tried to design the buildings as small and low as possible. This is because it is better to take a form not to receive wind resistance. It is the same idea as the form of airplanes and cars. In addition, we planned to prevent the wooden sashes from being damaged by installing windproof doors, coffin doors, etc. in the courtyard and all windows.
For visitors to client who migrated from Tokyo, a small guest room was provided across the courtyard. The roof balcony above the courtyard was designed so that palm trees could penetrate the roof and the sea could be seen through the roof.
This building was completed and experienced a big typhoon twice, but it was safe without any damage. I want to protect the client for a long time in this building and surrounding with him in safety.