北赤羽-アウルズハウス-

所在地:東京
延床面積:346.34㎡
集合住宅
2014年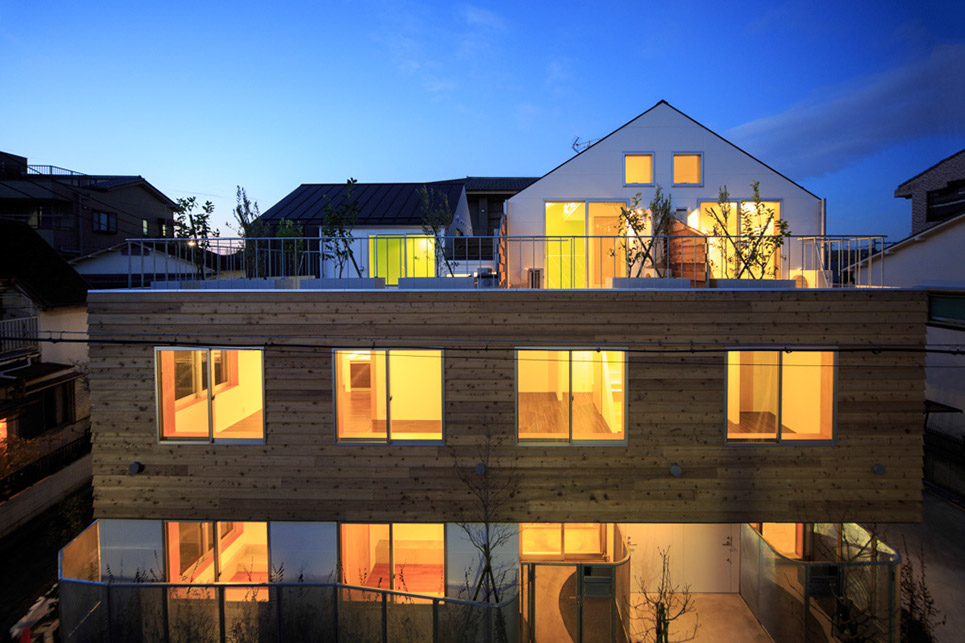 駅から10分ほどの住宅密集地に建つ10戸の賃貸の長屋の計画である。細街路ではあるが道路に長く接している敷地のため各住戸へのアクセスも計画しやすかったので共用部を持たない長屋形式の住宅とした。
建物外観は周辺の住宅のスケールに合せ分節化し外壁材も周辺街並みのテクスチャーから3種類を選び決定している。
プランニングは、メゾネット住戸8戸とフラット住戸2戸という構成で全ての住戸は異なるプランであり、小さいながらも専用庭かルーフバルコニーを持ちそこには緑が植えられるように設えた。
構造はS造のラーメン構造である。コストを考慮し経済スパンの6mグリットで単純に構成しているがグリットを2mずらすことで単調な外観にならないよう計画した。
この長屋は、各住戸の外壁率は非常に高く通風や採光の面では戸建て住宅のようであるが是非自然や緑の好きな人たちが集まって適度なコミュニケーションをもちながら住んでもらえることを願っている。

Steric terrace house with a green garden

It is a plan for ten rental terrace, or row houses in a densely populated area about 10 minutes from the station. Although the site was a narrow street, it touched the road for a long distance. I planned a terrace house with no common area because it was easy to access each unit due to the characteristics of the site.
The building form was segmented according to the scale of surrounding houses so as not to scale out. Three types of exterior wall finishing materials were selected based on the texture of the surrounding cityscape.
The planning consisted of 8 maisonette(duplex) dwellings and 2 flat(apartment) dwellings, and all the dwellings had different plans. Each dwelling has a small but private garden or roof balcony that can be planted with greenery.
The structure is a steel frame ramen structure. Considering the cost, it was simply configured with 6m grid of economic span, but it was planned not to have a boring appearance by shifting the grid by 2m.
All the dwellings have so much exterior wall that they can ventilate and light like a detached house. I hope that people who like nature and green will come together and live with good communication.